Who is really my favorite?
August 8, 2006
Do you remember my BREEDER!!!1!! post a couple of months back?
Well, a couple of weeks before Blogher I got an email from Kristin who had read my BREEDER!!!1!! post and decided to make t-shirts like them to kick off her new t-shirt printing business. She wanted to know the sizes of my children so that she could being me some of the shirts as she was going to Blogher also.
Oh exciting! I sent the sizes off to her. Then I promptly forgot all about it because I had important thing to do, like pack my shoes.
So fast forward to the Hyatt. She leaves the shirts in a gift bag at the front desk and asks them to give them to me. Which they assure her they will. But this is the same front desk that tried to charge me $30 for a drink bill that wasn't mine, charged my debit card almost $600 for my hotel room instead of $300, and could not give directions to anything near by with any sort of accuracy.
Knowing this, what do you think the chances are that I got the shirts?
If you answered none, you would be right.
So the entire Blogher conference, she thought I had recieved the shirts. I am sure she was wondering why I never even bothered to acknowledge them. And was probably regretting even making them for me because what kind of person doesn't acknowledge a gift?
The kind of person who never recieves it, that's who.
I arrived home from Blogher to an email telling me that somehow the hotel had given the shirts to the wrong person. This person contacted her and offered to send the shirts on to me.
And when I found this out I felt horrible. I would have loved to say thank you in person for such a kind and thoughtful gift.
Yesterday I went to my mailbox and there were the shirts. The kids were all excited and promptly put them on. I took the opportunity to take a picture of them.
Awwwwww, so cute. The shirts that is.
Shortly after taking the ONE decent picture a fight broke out over who was in fact my favorite. A fight which spiraled down into a slap fest and loud screaming, "No I am mom's favorite!"
A fight which found me standing in front of my house shrieking, "You know who is my favorite? None of you. None of you are my favorite!"
And so I decided that aside from securing my place as the winner of the Bad Mother of the Year award for all time, I don't need this shirt: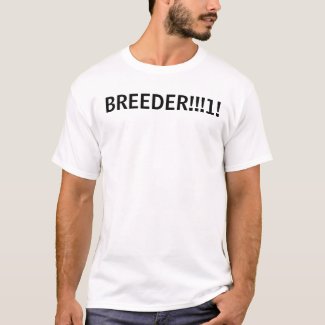 I need this one: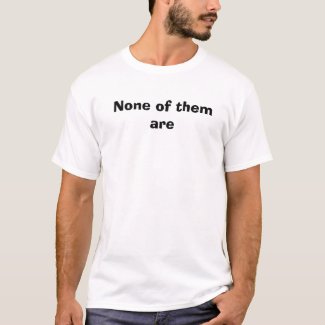 Maybe I should just wear the tiny tshirt that advertises condoms which came in our bag of shwag at Blogher, as a warning for others. The t-shirt that says, if you used our condoms you would fit into this t-shirt still and not have to deal with tantruming children who would find something to fight about even if they were somehow contained in a completely empty and sensory deprived environment.
Or maybe it says that only people who are this size should have sex. I don't know. I'm not really sure what the message of the child sized t-shirt was supposed to be, just that I think it would be funny to wear it out in public with my children.
Posted by Chris @ 6:35 am
RSS feed for comments on this post.

The URI to TrackBack this entry is:
http://www.notesfromthetrenches.com/2006/08/08/who-is-really-my-favorite/trackback/
Comments