WWMS?
January 27, 2007
The thing about having a wood burning stove is that you need to clean it out frequently. I didn't realize how much I would hate doing this. It means I have to turn the stove off, wait for it to cool completely, then clean the entire thing out, and the restart it. It means that it is off, and not heating us, meaning my ass parked two inches from the flames, nice and toasy, for several hours.
This past week it has turned really cold. As in -15 degrees cold. Schools were closed because it was too cold to heat them, though I personally think everyone was just itching for a snow day.
So this week I ignored the stove cleaning job. I stood in front of it, warming up my backside and my frontside, admiring my new wood floor that is so shiny. I thought, "What is the worst that can happen? Is it going to catch on fire?" Insert hilarious laughter here, because it is always on fire.
Turns out, that yes it can catch on fire.
And when you decide to turn it off because it is completely backed up with soot, the smoke will billow out of the stove and fill the house. Forcing you to open every window and door, AND put a fan in the window. And suddenly it will occur to you that you are much colder now than you would have been if you cleaned the stove out when it needed it.
After awhile of this I grew impatient and decided that I must get all those embers out of the house RIGHT NOW! It was very smokey and my eyes were burning. And so when Rob was in the other room I began vacuuming up the soot and embers that were in the stove. My back was to the vacuum when Rob came running in screaming. The vacuum ( NOT the Dyson thankfully) was on fire and shooting flames out the back of it. All I could think was I hope it doesn't burn the new floor.
And then I thought, What would Meredith Viera say (WWMS)* ? "How would you feel if your babysitter did this? What is the difference between you and a babysitter? Huh, you rotten negligent mother? How would you feel if your house burnt down? Are you drunk right now? Are you?"
And I would have to answer, "No, but my 10 yr old can make you a mean drink. And frankly, Meredith, I think you need one."
Also, I wish I could have been outside the Today show window. I would have had my at least one of my children wearing this creation from last year: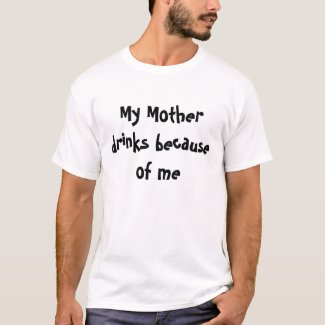 My Mother drinks because of me
by
chrisandkids
Get this
custom t-shirt
at
Zazzle
In the end my house didn't burn down. The wood burning stove is fine and cleaner than it has been in a long time. All my newly painted walls had to be scrubbed clean. The vacuum didn't survive. But hey, all of my children did. And most importantly the floor came out unscathed. And if that doesn't call for a celebratory drink, I don't know what does.
Updated: A few people have emailed to ask me what Meredith Viera has to do with all of this. Here is the link to the segment on the Today show.The lovely Melissa Summers interviewed by Meredith Viera, where Melissa is vilified for daring to admit she occassionally has a GASP alcoholic drink GASP in front of her children at get togethers with her girlfriends, thereby leading those poor children down the straight road to eternal damnation and drunken homelessness. Also possible death because WHO WILL DRIVE THE CAR IN AN EMERGENCY?!?
Posted by Chris @ 10:33 pm
RSS feed for comments on this post.

The URI to TrackBack this entry is:
http://www.notesfromthetrenches.com/2007/01/27/wwms/trackback/
Comments